History of Shiseido company, which is known to, among other things, characteristic of Japanese design, and the General concept which distinguish it from the Western manufacturers of cosmetics, started from the first in Japan pharmacies in Western style. The way from a small drugstore to the giant cosmetic industry was long; in the United States and other Western countries, Shiseido cosmetics had sold 40 years ago, and the present popularity she earned relatively recently. Success can be attributed, in part, a certain exoticism of the brand on the background of European and American manufacturers Shiseido looks very distinctive.
At the same time, the company Shiseido has been criticized for the low quality of products and the absence of a detailed list of ingredients on the packaging. Advertising often and says a lot about the unique technology, which uses a Japanese company, to teach you the detailed information about what exactly is cosmetics, and how it operates, it is extremely difficult. If assurances advertisers look very attractive, the Shiseido cosmetics rarely produces the same impression. There is one interesting moment. When representatives of the company Shiseido talking about their cosmetics, they insist on the need to do daily facial massage. Japanese women face massage is the same natural part of the regime skin care as for us – wash twice a day. Perhaps if daily massage the face, Shiseido cosmetics really will give better results. However, until now, no studies have confirmed that facial massage can really improve skin tone or slow down the process aging. However, Shiseido, there are many and very high quality products.
Strengths
The company Shiseido known quality sunscreen, which provide good protection against UVA and UVB rays. They are designed for different skin types, and their active ingredients are titanium dioxide, zinc oxide, and avobenzone. Under the Shiseido brand sells good moisturizers, foundations with sun-protection filters, press powder, ideal oily skin, lipsticks, mascara, and effective means to eliminate pigment spots. Also worth noting is the design of packaging and advertising – not least thanks to them, the brand has managed to gain popularity in markets outside of Japan.
Weaknesses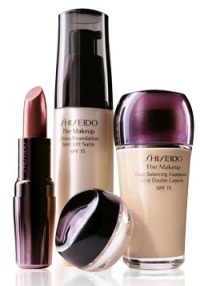 One of the biggest drawbacks of Shiseido cosmetics – its high cost, which is often not justified: the luxury brands you can find more high quality products, for approximately the same money. Some cleansers Shiseido desiccate the skin. In assortment there are no foods with alpha-гидроксикислотами and beta-гидроксикислотами, as well as a means for the treatment of acne and acne. Funds for tanning Shiseido many buyers cause skin irritation; concealers often uneven coverage of problem areas.
Bestsellers Shiseido
Edge Free Eyelash Curler ergonomic clippers for eyelash curler. Initially they were designed specifically for women with Asian eyes, but today the assortment of the Shiseido also have very convenient clippers for women living in the Western countries.
Shiseido Nourishing Mascara Base. This moisturizing base under mascara makes eyelashes longer, thicker, and gives them a graceful curve. You can use it without ink – it is well suited for neutral makeup, especially those who lashes naturally dark and quite thick.
Perfect Rouge Lipstick, tone RD514 Dragon lies on the lips smooth layer of a deep red color with a brown shade. This lipstick on all occasions, suitable for women with any type of appearance – this probably explains its popularity.
Shiseido Concentrated Balancing Softener – a means for intensive moisturizing. Instantly improves skin texture, pores and eliminates peeling and a number of other problems.
Shiseido Perfect Refining Foundation – the Foundation provides coverage of average density, with a matte effect. Ideal for women with normal and combination skin. It is easy to lie down on the skin, and to create a level tone can even those who have generally not good to use the tonal creams.
Brightening Spot-Control Base UV SPF 35 – remedy for women who already the first signs of aging. It should be used as a base under make-up, to protect against UV light and prevent the appearance of spots. Due to the high SPF cream works well with this task, although brightens the skin, contrary to the advertising statements, not too effective.
Super Corrective Serum serum visibly improves skin tone after the first application. Used daily, it significantly slows down the skin aging process.
Lifting Mask Science EX. This mask improves the texture of the skin and facial contour, providing quick rejuvenation without surgery.
Shiseido Intensive Spot Targeting Serum a serum to lighten age spots; rather quickly rejuvenates the skin, improves its tone, and gives it a healthy glow.